A recent study showed that the majority of traders are taking small wins but have big losses. This scenario ensures that the equity curve will be going in the wrong direction over time. If you are struggling with this same issue, it may be time to try something new. How about doing the opposite of what most traders that are failing do.
This is exactly what MTPredictor can help you do – take small losses and have larger wins in relation to those losses. Check out how we do this in today's MTPredictor trading webinar.
During today's MTPredictor trading webinar, I showed how the software can help the new trader get on the right side of the market with low risk, high reward trade setups.  I demonstrated these automatic setups in the DAX showing both winning and losing trades.  The key is the winners are large and the losses are small.
Later, I took a look at several different markets to show how the more experienced trader can use the tools in the software to create their own setups based on their own analysis.
I also showed our new MTPredictor indicators for TradingView.com
Check it out in today's MTPredictor trading webinar recording.
With the Dow hitting 17,000 and the ES approaching 2,000, clearly the risk of buying in now is very high but gold and silver are potentially forming bottoms where the upside potential may provide much better returns.  They are two markets that are definitely worth looking at.  While I have been buying physical silver in the MTPredictor weekly wave 4 DP support (below $20), I will be looking to add some related stocks as well.
You can follow me here on TradingView where I will be posting trade ideas on a regular basis https://www.tradingview.com/u/MTPredictorUSA/
Check out the rest of the analysis here in tonight's MTPredictor Weekly Market Update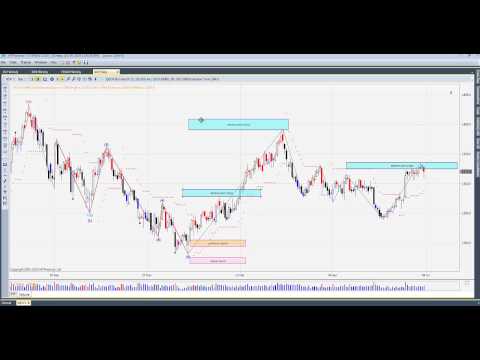 Did you ever want to know how to tell, with a high degree of accuracy, what type of trading day to expect – trend, oscillation or chop.  Watch today's MTPredictor trading webinar recording and I will show you a few simple observation you can make at the open that will give you heads up as to which market type to expect.
The last few weeks I pointed out that the VIX below 11 would signal higher volatility ahead.  We got both last week.  As the VIX headed below 11, we say the volatility in the stock market pick up as ranges increased and swings became more extreme intra-day.
Stocks continued to make or flirt with new highs.  The ES is just a few points from its weekly typical wave 5 target which should have a good chance of being reached as markets tend to rally into holidays (July 4th here in the US).  Prices have pulled away from the weekly 50 pd ma for some time so it is only a matter of time before the market revisits it.  With the VIX flirting near 10 year lows, we should soon reach a short-term top and correction back to the 50 pd.
Gold and silver have had nice runs this week to the upside.  Even though silver has had a nice run, it has yet to take out any weekly swing high level.  Unless it can do this and then begin to make higher lows, I think we may eventually retest the lows and maybe even reach that 17>50-60 wave 5 level.  I also take on the question of inflation vs. deflation and their effect on gold and silver prices.
Check out the rest of the analysis in tonight's Weekly Market Update